~~All that is essential for the triumph of evil is that good people do nothing~~


SEE FAMILY PHOTOS
Zella Hain ~ Bian Iseminger
Jasper Hain ~ Malinda B. Slater
Leonard Hain ~ Hulda Jackson
John R. Hain ~ Sarah Jennings
Iseminger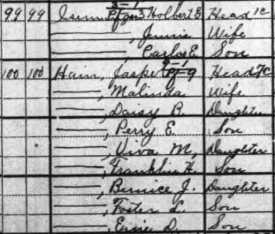 Hain

Zella Hain ~ Bian Iseminger

Jasper Hain ~ Malinda B. Slater

3 Jasper Hain b: February 06, 1853 in Sugar Creek, Cedar Co., Iowa d: February 13, 1915 in Buck Grove, Crawford Co., Iowa
.... +Malinda B. Slater b: March 05, 1855 in Cedar, Iowa d: August 28, 1926 in Denison, Crawford Co., Iowa m: January 06, 1876 in Tipton, Iowa
Jesse HAIN Household
Male

Other Information:
Birth Year <1854>
Birthplace IA
Age 26
Occupation Farmer
Marital Status M <Married>
Race W <White>
Head of Household Jesse HAIN
Relation Self
Father's Birthplace IN
Mother's Birthplace ---

Source Information:
Census Place Washington, Crawford, Iowa
Family History Library Film 1254335
NA Film Number T9-0335
Page Number 133A
Malinda HAIN Household
Female

Other Information:
Birth Year <1855>
Birthplace IA
Age 25
Occupation Keeping House
Marital Status M <Married>
Race W <White>
Head of Household Jesse HAIN
Relation Wife
Father's Birthplace OH
Mother's Birthplace OH

Source Information:
Census Place Washington, Crawford, Iowa
Family History Library Film 1254335
NA Film Number T9-0335
Page Number 133A
MALINDA SLATER
11 323 H. G. Iseminger Buck Grove
11 324 Jennie Iseminger Buck Grove
11 325 Clarence Iseminger Buck Grove
11 326 Carl Iseminger Buck Grove
11 337 F. A. Slater Buck Grove
11 338 Lizzie Slater Buck Grove
350 J. F. Slater Buck Grove
11 351 Lottie Slater Buck Grove
11 352 Roy Slater Buck Grove
16 501 Jasper Hain Buck Grove
16 502 Milinda Hain Buck Grove
16 503 Herm Hain Buck Grove
16 504 Frank Hain Buck Grove
16 505 Bernice Hain Buck Grove
16 506 Foster Hain Buck Grove
16 507 Dean Hain Buck Grove
End of Washington Township Register
Submitted by Bob Kuehl
WPA Cemetery Records
HAIN Jasper 2-6-1853 2-13-1915 Oakland Denison Denison Husb of Malinda
Malinda 3-5-1855 8-28-1926 Oakland Denison Denison
HAIN Nathan Dow City Dow City Union No Monument
http://iagenweb.org/crawford/wpacemh.html
Dow City News from the Dow City Enterprise
and Denison Review
1909
April 9 - May 28
*The funeral service of Mr. J. Wiley took place at the M. E. church last week as it was announced it would. The Odd Fellows had charge both at the church and at the cemetery and their beautiful and impressive services were very appropriate. The floral offerings were very beautiful and the singing by the choir appropriate. Other particulars were given last week.
*Many out of town people attended the Wiley funeral here last week. Among the number we noticed the following persons. G. L. Caswell, F. W. Meyers, John Mount, Chas. Bullock, W. W. Cushman, Theo. Walker, H. J. Cummings, S. M. Thew, S. P. Jacobsen, E. W. Pierce of Denison, L. C. Butler and Dr. Evans and wife of Arion, John Kepford and wife,
Jasper Hain of Buck Grove,
Chas. Talcott and wife of Dunlap, O. McBride of Logan and Thomas Munsey of Deloit.
http://iagenweb.org/crawford/downews11.html

Leonard Hain ~ Hulda Jackson
Leonard Hain
b. May 5, 1813 in Clark or Miami Co, Ohio
d. Dec 23, 1891 in Milo, Warren Co. Iowa
Married June 4 in Lafayette, Tippecanoe Co, Indiana to Hulda Jackson b. 1813
*3rd Wife of Leonard Edward Hain:
... +Hulda Jackson b: Abt. 1813 m: June 04, 1862 in Lafayette, Tippecanoe Co., Indiana
Leonard HAIN Household
Male

Other Information:
Birth Year <1813>
Birthplace OH
Age 67
Occupation Farmer
Marital Status M <Married>
Race W <White>
Head of Household Leonard HAIN
Relation Self
Father's Birthplace PA
Mother's Birthplace KY

Source Information:
Census Place Otter, Warren, Iowa
Family History Library Film 1254368
NA Film Number T9-0368
Page Number 439B
Hain, L., farmer, Sec. 12; P.O. Milo.

John R. Hain ~ Sarah Jennings
John R. Hain
b. Jan 25, 1789 in Penn
d. Jan 27, 1856 Lafayette, Indiana

married Jan 30, 1812 in Mongomery Co. Ohio to

Sarah Jennings b. Mar 27, 1864
d. Jan 7, 1864 Tippecanoe Co, Indiana