© Myrtle BRIDGES, 1997 Extracts from the NC Archives on Marlborough Citizens
Generously contributed by Myrtle Bridges, author of a new book on Richmond County, NC
"Our Native Heath Richmond County 1779-1899"
For those who are interested in learning more about the book,
visit her website.
Thank you, Myrtle!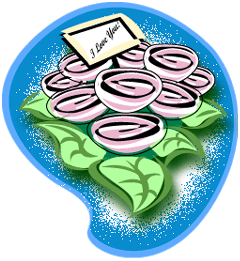 These roses are for Lynne Price Budke, and Jacklyn Gay Price. Lynne~whos trail i had been following, found her instead and she has provided me with the info i was looking for, plus photos, Jacklyn who had given my grandmother the info on the Price's and Iseminger's, years ago that got me started on this now. THANK YOU BOTH.
Lynne and Jacklyn are my grandmother Betty Lou Price's neices, which makes them cousins of mine.


These flowers are for Karen Barnard, Who filled me in on Lucinda Barnards family, when all i knew was her name, Thank You

JEFFERY BASSETT, The first bassett i came in contact with, you helped me find William when all i knew was Bertha's
name, you put me in contact with Helen, Told me our DNA link. and your thoughts on who Charles's father was , i think i liked that the best. THANK YOU for all you help.

BRENDA NICHOLS, THANK YOU for the post you left me at geneoalgy.com giving me my Skipper line.


HELEN BASSETT, These are for you, thank you for your reports on Charles And William, And Bertha, The Skippers knew very little about her, THANK YOU SO MUCH.,


C. J. McGREW, we never did find Francis's parents, but you have giving me so much information on the McGrew's history, your paper "ALL McGREWS ARE RELATED" is wonderful.
THANK YOU for all your advice, I hear you know my cousin Lynne (above)